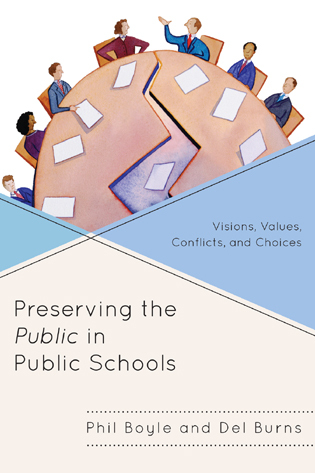 Thank you for your interest in our book...
The Christian Science Monitor -- 15 Must-Read Books about K-12 Education in the U.S.
Phil Boyle discusses "Preserving the Public in Public Schools," On the Scene with The McCormick Foundation
Preserving the Public in Public Schools is written for anyone interested in improving the effectiveness of public school leadership and governance. From elected board members to superintendents to teachers; from PTA presidents to parents to students, this book was written for you as a how-to-guide for reigniting your passion and engaging in the very important work of educating the next generation of Americans. There is a reason the word "Public" comes first in "Public Schools" and "Public Education" and that reason is the focus of this book. That reason is you.
Phil Boyle and Del Burns co-authored this book based on their work with dozens of public school systems from across the country.
To Order Copies
of
Preserving the Public in Public Schools
by Phillip Boyle and Del Burns
Contact:
Rowman & Littlefield Publishers, Inc.
Customer Service
1-800-462-6420
or
or
Your favorite independent or online bookstore!
"An urgently needed reminder of why we have public schools in this country and why our conversations at the board table are more important than we realize."
--- William P. Nemir, Director, Leadership Team Services, Texas Association of School Boards
"It turns out there is a public for public schools and it's all of us. Boyle and Burns justify the continued existence of public education and provide the solution for restoring its essential purpose."
– Mark C. Metzger, Past President, Illinois Association of School Boards and former member, National School Boards Association Board of Directors
"Preserving the Public in Public Schools addresses the complex choices that must be made concerning education in America today. It presents to educational decision-makers – who include legislators, school board members, and voters — a framework of values to guide them in their analyses and choices. Exploring how liberty, community, equality and prosperity are intertwined in educational policy decisions, the authors challenge decision-makers to see beyond the need for students who can read, write and compute to the need for citizens and community members who can actively and intelligently participate in our messy but wonderful democracy."
– Jane Wettach, Education Law Professor, Duke University Law School